Come Meet Your Iowa State Family
College of Human Sciences Campus Visits
Out of an abundance of caution and to prioritize the health and safety of our guests, we will be continuing to host College of Human Sciences visits virtually during the spring and summer of 2021. In the meantime, we are available to connect with you remotely.
To schedule a virtual academic information session to explore your major of interest contact us at humsci@iastate.edu or 515-294-7838.
When we are able to resume in-person programming later on in 2021, we will once again have these options available:
Day in the Life allows you to experience college life, with class and faculty introductions based on your interests. You'll also have the chance to tour our classrooms and teaching labs. This is a second campus visit for high school seniors who have been offered admission.
Group Visits provide school classes, clubs, or organizations of 10 or more a taste of what the College of Human Sciences has to offer.
Family and Consumer Sciences Education Studies and Financial Counseling and Planning Day
TBD – This event is an Experience Iowa State (EIS) day for high school seniors who are exploring the Family and Consumer Sciences Education Studies or Financial Counseling and Planning. Attendees will have the opportunity to meet current students or advisors, tour lab facilities, attend a mock class, and take part in EIS programming.
General Campus Visits
For your first trip to campus Iowa State's Admissions office hosts multiple visits throughout the year for you to choose from. Most of these visits include an academic session with an advisor in your major of interest.
Experience Iowa State is an open house program where you get the chance to chat with current Iowa State students, check out various career interest sessions, meet in a small group with an advisor in your major of interest, and take a guided campus tour.
Daily Campus Visit allows you to learn more about enrollment and take a look around campus and our residence halls. On most weekdays, you'll be able to visit with an academic advisor in the area of your choice.
Transfer Student Visit Days focus on small group sessions with fellow transfer students to discuss how best to transition to Iowa State.
Virtual Tour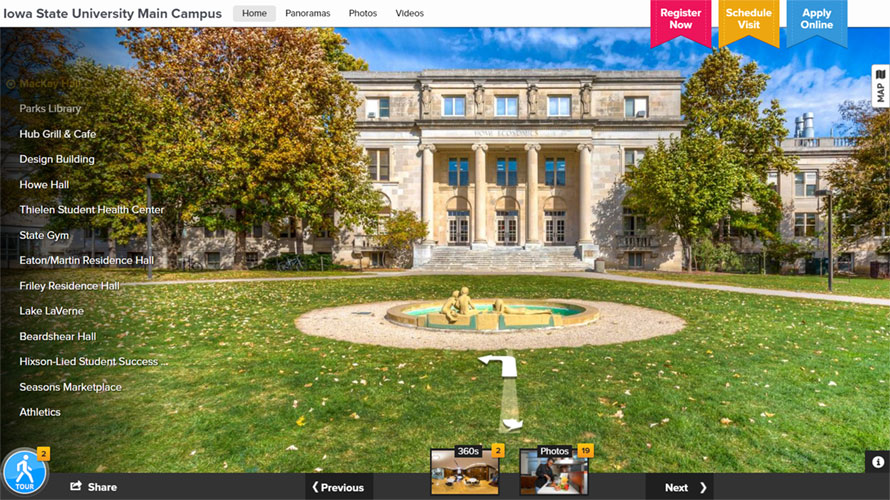 Want to get a sneak peek before your visit? Check out our virtual tour!
Need More Information?
College of Human Sciences Visitor Center
118 MacKay Hall
2302 Osborn Drive
Ames, Iowa 50011-1078